Zest-it® Cold Wax Painting Medium
(It is not classed as a hazardous product
therefore an (M)SDS is not required)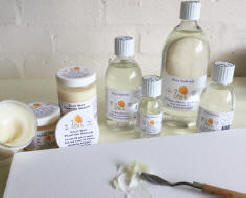 Use as diluent and solvent for Cold Wax
and oil/wax mixtures.
Also for cleaning brushes and equipment.
.


The Zest-it Cold Wax Painting Medium is a smooth, thick, firm paste and the reference to 'cold' is because it does not need or require heat. use with brush, painting knife, shaper or wedges.

Mix with Oil paint, pigment, powdered metals, marble and other fine art materials tp increase the workability and drying time. Apply to canvas, mdf, gesso'ed panel, birch ply or material of your choice.
It dried to a very cohesive and stable finish that can be varnished, buffed with a soft cloth or left 'as is'.

It does not contain any Aromatics or CFC's, it is classed as biodegradable and is therefore kinder to the environment.
It can travel by road, sea and air, which makes it an excellent accompaniment if you are going on a painting holiday (depending on the airline).

Dispose of the any 'wax/paint sludge' by putting onto damp sand or soil in a container.
Do not throw the liquid or brush washings down the sink.

Sizes available - 125 ml; 250 ml; 500 ml; 1 Litre.
Check out the Absorbant Mat for use with Zest-it Brush Cleaners and Solvents, good for keeping the air quality in the work area cleaner.
Please visit our Wax focused site at www.artywax.co.uk for more information on using Cold Wax Painting Medium

Copyright© Jacqui Blackman 2017




Yes

Yes

Yes